What is SportyHQ
SportyHQ is built and maintained by sports fanatics. It's that love of sports that drives many of the features which set SportyHQ apart from the competition. Bringing statistics and social interaction to the average player that you would normally only expect at a professional level is one of the founding goals of SportyHQ.
While the underlying features of SportyHQ might have been built many times over by many others, we absolutely take a fresh approach to every feature. For example, leagues show detailed statistics about each player so that you can actually track home/away matches, player performance and more. Tournament draws show profile photos so that you can easily identify someone you might not know. Tournaments and leagues also increase the visibility of sponsors, create avenues for players to promote events and give valuable public and private feedback. The booking system offers players new ways to find great games quickly and easily while helping clubs ensure that courts don't go empty during peak times.
Combine all this with an incredibly friendly interface and you'll see why SportyHQ is quickly becoming known as a game-changer in our field.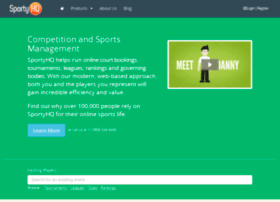 How to sign up to SportyHQ
Click below to see a step by step guide on how to join SportyHQ
SportyHQ Support:
Click here